nib.com architecture texts - SEMINAR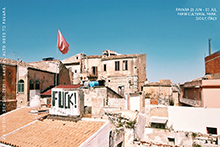 Architectural Association Visiting School
AA Visiting School in favara, Sicily
In summer 2021 the AA Visiting School El Alto will be part of Countless Cities , a biennale with multiple pavilions
portraying different countries and places from all over the world - yet all nested within the historic centre of Favara,
less than 8 km from the monumental Valle dei Templi in Agrigento (Italy).
This sicilian small town isn't as full of architectural treasures as its neighbouring areas, but it hosts Farm Cultural
Park, a peculiarly diffused art gallery that managed to attract thousands of international visitors since 2010. Through
a series of collaborative artistic and educational projects Farm triggered a process of urban regeneration with a
strong social impact, which culminated with the Human City Design Awards 2020 and the partnership with New
European Bauhaus. Within this collaboration, Portable Cholets 2021 will be another step to define beautiful and
sustainable forms of togetherness for the cityscape.
Indeed, despite the amazing premises of Palazzo Cafisi, Palazzo Miccichè and Sette Cortili - the seven interlocked
courtyards where it all started - Favara's old centre still suffers from a significant state of abandonment and
precariousness that Farm intends to address in the coming years. Now seems the right time to focus on exploring
adequate architectural languages and it is exactly where the research pursued by the AAVs El Alto could become
truly instrumental.
The course will be taught physically from Farm Cultural Park, with international guest lectures joining us everyday
online. We will start with a two days symposium with several film screenings about the history and the current
architectural and cultural context of both El Alto and Favara. It will be hosted on the terrace of Palazzo Miccichè and,
among the others, the film director Marcos Loayza and the architect Freddy Mamani SIlvestre will intervene from El
Alto.
During the following week, the students will perform a series of urban explorations around Favara to intuitively
gather impressions from its evocative places. In particular, each student will be asked to select a real character or to
develop a fictional one - tracing, mainly via video-recordings, but also through sketches and collected artifacts, the
way s/he engages with the city. These spatial portraits will be playful and subjective yet based on a process of
in-depth observation: they will draw relationships between human gestures, fragments of architecture and pieces of
(third) nature, intertwining symbolic objects with exceptional rituals and daily routines. The individual portraits will be
eventually edited into a collective short film that will act as a first iconographical archive to trigger creative, novel but
rooted architectural languages for Favara.