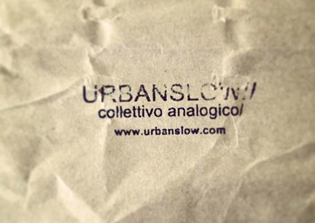 URBANSLOW// è un collettivo analogico che si occupa di progettazione e di ricerca legata al paesaggio urbano.
Perchè analogico? Perchè proponiamo una lettura qualitativa dello spazio e del tempo (slow), combinando capacità intellettuali e manuali.
Il risultato: allestimenti, grafica, illustrazioni, workshop rigorosamente autoprodotti.
-
Urbanslow is an analogical collective focused on design and investigations of urban landscapes.
Why analogical? Because we suggest a quality reading of space and time (slow), combining intellectual and handmade capabilities.
The result: severely self-made exhibitions, graphics, illustrations and workshops.