University of Huddersfield, UK.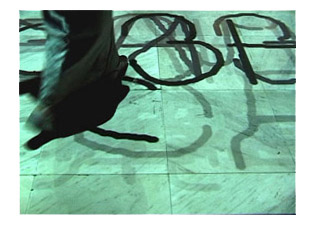 Anneke Pettican and Spencer Roberts play with spatial and temporal realities using text-based experiments. The media they employ ranges from simple subtitling techniques to custom built sensor systems and GPS devices.

Anneke Pettican is a co director of the artistic collaboration Brass Art. Positioning themselves as shadows, digital sprites, drawings, sculptures and performers, their installations focus on liminal spaces, their inherent ambiguities and notions of the uncanny. Their work has been exhibited nationally and internationally.

Spencer Roberts is an artist and programmer with a background in philosophy. His work focuses upon the production and consumption of text as mediated through a variety of technologies. It tends to couple programming with custom built, hand made electronics and explores the relationships between philosophy, critical theory, literature and technology.